Correction: Location of the new CVS will be at the Corner of Main Street and Route 38. The Corner of Route 541 (Mt. Holly Bypass) and Route 38 has already been approved for the construction of a new Republic Bank.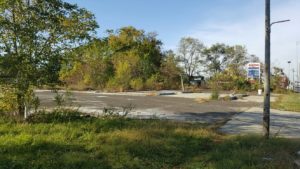 November 3, 2017, Lumberton – Mayor Sean Earlen and the Lumberton Township Committee are thrilled to announce that CVS Pharmacy is acquiring the lands at the corner of Route 38 and Main Street to establish a new pharmacy and store location at this location.
"We are pleased to have been able to work with CVS to bring this exceptional ratable to Lumberton. It will provide a significant benefit to our residents and serve as an anchor to the continued revitalization of the Route 38 corridor," said Mayor Sean Earlen.
"Lumberton offers CVS a great opportunity to expand our market. The Township's stable tax rate and commitment to its commercial partners guided CVS in its desire to come to seek this location for its next store," explained Al Stein, Real Estate Developer with Feinberg & Stein of Cherry Hill, New Jersey.
"We appreciate that Mayor Earlen was able to help bring the former landowner and our client together and work through the developmental hurdles that can be present in abandoned properties," Stein continued.
The corner lot has sat vacant in recent years following a fire at the former gas station located on the property. The project includes both the corner lot and the adjacent restaurant site.
Mayor Earlen concluded, "CVS's decision to locate its next store in Lumberton will transform this intersection and remove the blight that was left by the vacated service station. We look forward to the submission of its application to the Land Development Board so that we can keep this major redevelopment initiative moving forward."