Recycling
Lumberton Township participates in the Burlington County Recycling Program. Checkout the Free download by clicking the icon below.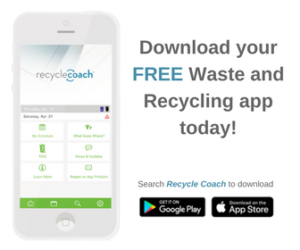 The following should be used as a guide as to how to prepare this material for recycling.
Newspapers, Cardboard, Glass Bottles & Jars, Aluminum & Steel Food and Beverage Cans are collected by Burlington County on a bi-weekly schedule that is mailed to each homeowner in Lumberton. Additional copies of the schedule are available at the Municipal Building. Call 267-6889 with any questions for the County about their Curbside Collection Program.

Please have all of these recyclables curbside by 6 a.m.

Do Not flatten aluminum or steel cans.

Do Not Break glass bottles.

Rinse all containers.

Flatten all Plastic milk and water bottles being recycled. Bottles that can be recycled will have a #1 or #2 on the bottom of them.

Do Not place paper or cardboard in or on top of the recycling container. A separate truck collects the paper and cardboard.

Glass, Cans and #1 or #2 Plastic Bottles may be placed in a single container for collection. This is known as commingling.

Newspapers may be placed in brown paper bags or tied with string or twine.
Cardboard must be flattened, placed separately and stacked together.
Lumberton also provides a satellite collection center for recyclables located on Chestnut Street across from the Family Services Building. Residents may bring their excess recyclables to this location at any time. THIS AREA IS FOR RECYCLABLES ONLY. Anyone caught dumping things other than recyclables will be prosecuted to the fullest extent of the law. When using this facility please ensure that the recyclables you are dropping off go in the correct areas. In addition, please flatten all cardboard boxes you are dropping off. This will ensure that the containers will be filled to their capacity and will also keep the area neat.
RECYCLING GUIDE
RECYCLABLES

How To Prepare

Yes

No

Paper

Place in brown bag or tie with string or twine

Never put paper in plastic bags, even if it's raining

Never tie with wire or tape

Newspapers

Magazines

Computer Paper

Brown paper bags

Clean gray-colored cardboard boxes such as tissue or cereal

Solid or food contaminated paper

Junk mail that may include staples

Shredded paper

Envelopes

Hardback books

Cardboard

Flattened and stacked separately from all other papers

Clean, corrugated cardboard cartons

Pizza boxes

Soiled cardboard

Plastic or wax coated

Food-contaminated cardboard

Foil coated beer boxes

Glass Bottles & Jars

Rinse clean.

Throw away caps & lids.

Do not break glass.

Do not remove labels

Rinsed glass bottles and jars only

Window glass

Ceramics

Mirrors

Headlights

TV tubes

Pyrex

Light bulbs

Drinking glasses

Beer bottles with attached ceramic tops

Aluminum/Steel Food & Beverage Cans

Rinse thoroughly.

Do not flatten cans

Rinsed food & beverage cans

Cookie tins.

Aluminum trays & pie pans

Aluminum foil

Oil cans

Siding

Paint cans

Gutters

Empty Aerosol Cans

Must be empty, if clogged, put in trash.

Remove caps but leave nozzle intact

Food aerosols

Personal care products such as hairspray, mousse, deodorant, shaving cream

Home cleaning products such as Pledge and Lysol,etc.)

Cans that are not empty

Paint aerosols

Pesticide or insecticide aerosols

Automotive aerosol products

Lubricants

Plastic Bottles

#1 and #2 Plastic Bottles ONLY!
Throw caps away

Rinse thoroughly

Flatten mild & water bottles

It must be a bottle

The bottle must have an A on the bottom

Do not recycle non-bottle items such as yogurt cups or microwave trays

NO #3,#4,#5,#6 and #7 bottles
No Bottle Caps

Motor oil or pesticide bottles