OEM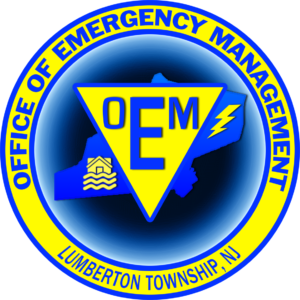 About the Office of Emergency Management
The Lumberton Township Office of Emergency Management serves the disaster preparedness needs of the township through research, planning and response. In direct cooperation with other public safety, public works, governmental, private industry and non-profit partners, the OEM works to help prevent and mitigate loss of life and property from various natural and man-made threats such as severe weather, flooding, large-scale fires, domestic strife, hazardous materials and terroristic acts.
Citizens and businesses are urged to use information provided by OEM to prepare themselves to deal with unexpected emergencies, and to reach out to us for assistance as necessary.
Lumberton OEM functions as a department of Lumberton Township under the authority of NJ state law.
Contact Information:
Daniel Januseski, MS, EMT, Emergency Management Coordinator
Kevin McGowan, EMT, Deputy Coordinator
35 Municipal Dr., Lumberton NJ 08048
(609) 267-3217 ext 179
Connect With Us:
Emergency ALERTING Systems
See the most recent messages from Lumberton Twp. Emergency Services, powered by Nixle.
Sign up to receive messages by email & text message.
Flood Hazard Information
Important Links
Special Needs Registry
ReadyNJ
Burlington County OEM
NWS Alerts
Amercian Red Cross