Uncategorized
Lumberton, NJ – September 10, 2016 – Continuing with its commitment to provide more passive recreational activities for its residents, the Lumberton Township Committee, along with the Burlington County Freeholder Board marked the opening of a brand new permanent Canoe Launch, located on Chestnut Street, near the Village Green Park.   The new Canoe Launch will provide a new purpose for the once vacant land that in the past served as the parking lot for the Burlington County Farm Fair.  Township Officials stated that the facility will be open from dawn until dusk, seven days a week for the residents to enjoy public access to the Rancocas Creek.
Mayor Sean Earlen stated, "for decades, if not centuries, the residents of our Township and the surrounding communities in Burlington County have benefited from the many outdoor activities afforded by the Rancocas Creek." "Particularly in Lumberton Township, our residents have come to love and enjoy their time on the Rancocas Creek and these recreational activities have led my colleagues and me to strategically advance the creation of this permanent Canoe Launch located on Chestnut Street."
In conjunction, with the Burlington County Freeholder Board, Lumberton Township has been able to fund this new Canoe Launch from grant funds received under the Burlington County Municipal Park Development Program. Lumberton Township has received more than $875,000.00 dollars in grant money from the county since it became available in 2011.  Projects that have been funded through this grant include a new playground, Community Garden and Dog Park at the Village Green, in addition to our recently opened Canoe Launch located across the street from the Village Green, sports fields at our Municipal Building Complex, the refurbishment of Turnbridge Park Playground and both playgrounds at Bryan Freeman Park in the Bobby's Run Development.
The Township is excited that the launch has opened on time and on budget.  Committeeman Jim Conway stated, "our goal as a Township Committee has been to fight for as much grant money as we can to fund these recreation projects  and it is my priority as well as Mayor Earlen's, as the liaisons for Engineering Projects, to ensure the projects are completed in an efficient and cost effective manner, so that we gain as much as we can from these funds." The Township also expects the construction of the new Canoe Launch will greatly benefit the annual Lumberton Fall Festival and Paddle event, held by the Lumberton Township Civic Association.  Mayor Earlen stated, "The Township Committee hopes that this new Canoe Launch will make it easier to assist patrons of our Annual Fall Festival and provide for a safe and enjoyable experience for them."  "We hope to attract more people to this great event to raise awareness of the benefits of having the Rancocas Creek winding through our Town," said Mayor Earlen.
The Lumberton Fall Festival and Paddle will be held on September 24, 2016 between 9am and 3pm.  For more information, please visit the Lumberton Civic Association website at, www.lumbertoncivic.org. In addition, the Township expects that the remaining projects funded by Burlington County Municipal Park Development Program will be completed by the end of fall, 2016.  It is projected that the Playgrounds at Bobby's Run's Bryan Freeman Park and Turnbridge Park will be completed by mid to late September of 2016 and the Township hopes to begin construction on the tennis courts after the completion of the playground projects.
Congressional Proclamation For Canoe Launch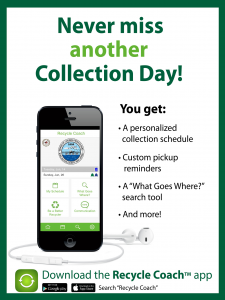 The County Recycling Office is launching a free recycling App for all residents called "Recycle Coach" and it is available now for download on your smartphone from iTunes or Google Play.
Once downloaded, be sure to type and submit your town name first. Then you will be able to enter your street address to start testing out the great features listed below!
With RecycleCoach you can:
• Set personal recycling reminders, so you don't miss your collection day.
• View your recycling schedule, which automatically adjusts for holiday changes.
• Check out whether an item can be recycled, using the "what goes where" feature.
• Get tips on how to recycle.
• Receive alerts if we have to change collections due to bad weather.
• Receive notifications about future events.
• Report problems includ ing missed collections and damaged recycling carts.
We would like your feedback to uncover any kinks or issues in the program as well as your personal review of the App. Please send your comments to recycle@co.burlington.nj.us or call – 609-499-1001 ext. 266
To download, type in "RecycleCoach" in your app store (Google Play, Itunes, etc.) and begin.