Township Business
Below is a Link to the Final Agenda for the January 21, 2021 Lumberton Township Committee Meeting
Final Agenda for the January 21, 2021 Lumberton Township Committee Meeting
Please be advised that unless directed by the Governor, the State, County or Local Office of Emergency Management, Lumberton Township Committee will conduct its January 21, 2021 meeting as scheduled at 7:00 p.m. at the Lumberton Township Municipal Building, 35 Municipal Drive, Lumberton, NJ. In keeping with state social distancing directives, in-person attendance will be limited to 30 members of the public not including the five Township elected officials, the Township Administrator, Township Clerk, CFO and Township Solicitor. The 30 members of the public that wish to attend will be admitted on a first-come, first-serve basis with priority given to Township residents who register in advance by emailing bquinn@lumbertontwp.com. The Township encourages registration to minimize the possibility that members of the public may be turned away at the door if the facility reaches its revised social distance capacity. Due to space limitations, members of the public are highly encouraged to participate virtually. Members of the public wishing to make a public comment in lieu of attendance may do so electronically at bquinn@lumbertontwp.com. Please provide your comments by 4:00 p.m. on January 21, 2021.
Residents may also access the meeting remotely using Zoom Conferencing for both audio and video footage, to join please type, https://zoom.us/j/8159797571 into your internet browser. You may also dial in for audio off your mobile phone by calling 1-929-205-6099 and pressing 8159797571# to join.
Members of the public are reminded that they are able to comment during the Public Comment portion at the January 21, 2021, Lumberton Township Committee Meeting:
Members of the public joining the meeting through Zoom wishing to make public comment must provide their name in the Zoom Chat so that the Zoom Host will know of your interest and can unmute your microphone at the appropriate time.
(Those utilizing the Zoom application, please refer to the following link https://zoom.us/meetings with your web browser to provide a tutorial of the application).
Additionally, the meeting will be livestreamed via Facebook on the Lumberton Township Mayor's site. The Township will not be monitoring the Facebook live chat stream during the meeting and no comments provided in the Facebook chat stream will be made part of the official record of the meeting.
Published by: Bobbie Quinn, RMC, Lumberton Township Clerk
Due to illegal dumping at the recycling center on Chestnut Street, the recycling center has been relocated to the DPW yard at 34 Municipal Drive. All boxed must be flattened. Paper, plastic and glass materials are the only acceptable recycling items.
Hours of operation:
Monday through Friday from 7:00 a.m. to 9:30 a.m.
1st and 3rd Saturday from 7:30 a.m. to 1:00 p.m.
Thank you!

The Lumberton Township Committee Reorganized and welcomed Committeewoman Gina LaPlaca and Committeeman Terrance Benson to the Board last evening. In addition, Committeewoman Gina LaPlaca and Committeewoman Rue Ryan were unanimously selected as Mayor and Deputy Mayor for the year 2021. On hand to swear in the new Lumberton Officials was New Jersey Governor Phil Murphy and State Senator Troy Singleton.
"I'm truly humbled by the overwhelming support that Committeeman Benson and I received from Lumberton voters and by the faith and confidence my fellow Committee members have placed in me to serve as Mayor. It is particularly significant to me that I have the honor of presiding over the first majority-female Township Committee in Lumberton history. I am committed to ensuring that all residents have a voice, and that our local government is finally a true reflection of who we are as a community" said LaPlaca.
Rue Ryan added, "It's a true privilege to serve this great community and I'm honored to be selected by my peers to serve as Deputy Mayor in this historic year. What an amazing lesson to teach our daughters that we as women can persevere, we can rise above, and we can become leaders. Let's continue to show the young women in our community that they too can continue to break those glass ceilings and fight for what they believe in. I believe in this town, I believe in the people of this town, and I believe in the causes this committee will fight for to make us an even better and stronger community."
Newly elected Committeeman Benson added "I am proud to join these amazing women in leading Lumberton into the future. I would like to thank the residents of our community for giving us the mandate for greatly needed change. We will focus on serving the interests of the entire community and making Lumberton a better place to live and work."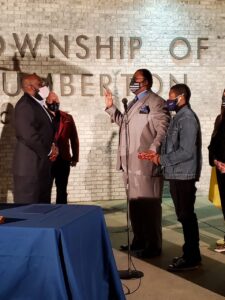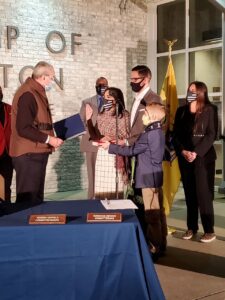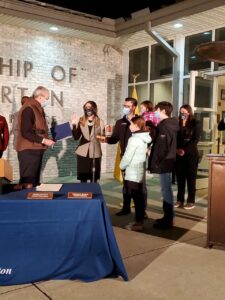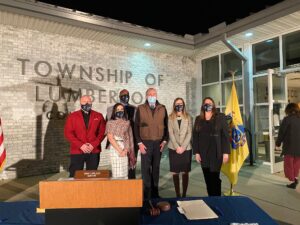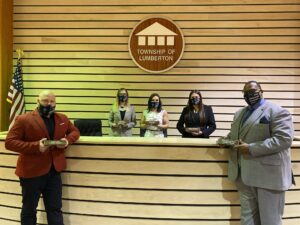 The Lumberton Township Committee is seeking Township resident volunteers to serve on the following Boards and Committees:
Lumberton Township Land Development Board, Open Space & Environmental Preservation Council, Shade Tree Advisory Board,
Recreational Advisory Board, and Flood Advisory Board beginning January 2021.
Residents interested in an appointment to any of the above shall complete a cover letter and/or statement of qualifications to serve. The completed cover letter and/or statement of qualifications to serve, must be submitted to the attention of the Township Administrator's Office, 35 Municipal Drive, Lumberton, NJ 08048 or by e-mail to bumba@lumbertontwp.com or
bquinn@lumbertontwp.com by January 15, 2021.
Thank you for your willingness to service Lumberton Township and we are looking forward to getting as many people involved as possible!
Any questions, please call 609-267-3217.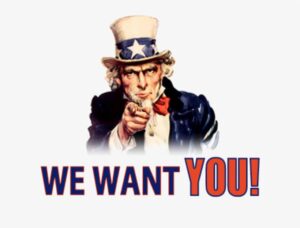 PUBLIC NOTICE
Federal Emergency Management Agency
In accordance with 44 CFR §9.8 for Executive Orders 11988 & 11990
Proposed Building Elevation
Township of Lumberton, Burlington County, NJ
Notification is hereby given to the public of the intent of the Department of Homeland Security- Federal Emergency Management Agency (DHS-FEMA) to provide federal funding to the Township of Lumberton, as subrecipients for the proposed elevation of residential structures through the Flood Mitigation Assistance (FMA) Grant Program. The purpose of the FMA Grant Program is to reduce or eliminate claims under the National Flood Insurance Program (NFIP). This notification is given in accordance with Executive Order (EO) 11988 (Floodplain Management), Executive Order (EO) 11990 (Protection of Wetlands), Federal Coastal Zone Management Act, and 44 CFR Part 9, regulations for implementing EO 11988-11990.
The proposed mitigation project would elevate eight (8) residential structures along the Rancocas Creek in Lumberton. These structures occupy low-lying areas susceptible to repetitive flooding. All proposed impacted properties in Lumberton would be raised approximately 2 feet above the base flood elevation (BFE) for a 100 year flood, in accordance with local flood ordinances and the
FEMA-approved mitigation plan.
This action would take place within the 100-year floodplain. Alternatives considered include: 1) taking no action, 2) the proposed alternative, elevating the structures; or, 3) acquisition and demolition. FEMA has determined that elevating the structures is the most practicable alternative to ensure the residences and their occupants are out of harm's way. FEMA has also determined that investment of funds to reduce flood risk is in the public interest. Potential impacts to water quality or aquatic habitat are anticipated to be temporary during construction and minimized through best management practices and conservation measures incorporated from resource agency recommendations and required regulatory permits.
Comments about this project, potential alternatives, and floodplain impacts may be submitted in writing within 15 days of the date of this publication to: U.S. Department of Homeland Security,
Federal Emergency Management Agency – Region II – Environmental Planning and Historic Preservation, Mitigation Division, One World Trade Center, Suite 53, New York, NY 10007 or via
email to FEMAR2COMMENT@fema.dhs.gov. If substantive comments are received, FEMA will evaluate and address the comments as part of the environmental documentation for this project.

Lumberton Township is inviting any interested party to submit comments to the Township, with a copy to Fair Share Housing Center, regarding whether any sites no longer present a realistic opportunity and should be replaced. Any interested party may by motion request a hearing before the Court regarding these issues.
Comments can be made to the following:
Lumberton Township, 35 Municipal Drive, Lumberton, NJ 08048
Attn: Brandon E. Umba Township Administrator
&
Fair Share Housing Center, 510 Park Blvd. Cherry Hill, NJ 08002
Attn: Laura Smith-Denker, Senior Staff Attorney
Lumberton Township Third Round Housing Element and Fair Share Plan (2015-2025)
Lumberton Township Third Round Housing Element and Fair Share Plan Mid-Point Review (2020)
To Our Residents: As we continue to work together to Flatten the Curve and navigate this crisis, we appreciate everyone's diligence in following state guidelines and maintaining social distancing. Understanding how difficult times have become, we can nonetheless persevere and beat this together and restore our town as quickly as possible.
Lumberton Township Officials and Public Safety Leaders continue to evaluate and plan for a "road to recovery" and, in correlation with the Governor's Office and Burlington County officials, are taking the following steps to modify our Emergency Action Plan:
EMERGENCY SERVICES
All Lumberton Township Emergency Services, which includes Police, Fire and EMS Services, remain fully operational and ready to serve our community. Please help keep our responders safe by staying home unless absolutely necessary and following all CDC and NJDOH safety and health guidelines.
For non-emergency Police matters, the public is encouraged to contact the Police Department by their non-emergency numbers at 609-267-8300. Residents needing non-emergency assistance may also use the Police Department Call Box located outside the Police Department Lobby.
TOWNSHIP MUNICIPAL BUILDING SERVICES
Effective Monday, May 18th, the Lumberton Municipal Building will re-open to the public. The Administrative Lobby and Police Department/Court Lobby will be open for service; the Tax Collection window will remain closed at this time. Hours of Operations will be Monday – Friday, 9:00 AM to 4:00 PM. As a service to our Senior Residents and those with higher risk to COVID-19 due to existing medical conditions, the lobbies will open from 8:00 AM – 9:00 AM Monday – Friday, for these persons only.
Safety guidelines are place to minimize risk during the ongoing pandemic; all visitors must be wearing face masks and practice strict social distancing measures to gain entry. Signage will be posted with this guidance, and floor spots will mark waiting points for all persons entering. The Administrative Lobby will be restricted to 4 persons at a time; the Police/Court lobby will allow 10 persons maximum at a time. All others must remain outside until spots open up. Visitor areas and high-touch surfaces will be cleaned daily following CDC guidelines so as to minimize risk to visitors.
Payments and documents for the township may still be dropped in the locked box located outside the Administrative Wing of the Municipal Building. Tax Payments may be dropped off at the Tax Drive-up Window drop box. Payments can also be made by using our online system https://wipp.edmundsassoc.com/Wipp/?wippid=0317 or by mail to the Tax Collector's Office, 35 Municipal Drive Lumberton NJ 08048. Our drive-up Tax Window remains closed to the public. The Fire Bureau will continue to conduct inspections; however, these will be done by appointment only.
DEPARTMENT OF PUBLIC WORKS
The Department of Public Works continues to collect trash as normally scheduled. Bulk Trash is still the first full week of the month and brush pickup is the third full week of the month. The Public Works Yard remains closed to residents Sunday through Friday.
Our DPW Staff will begin to hold normal Saturday hours for the DPW Yard on Saturday, May 16, 2020 from 7:30am to 1:30pm. Saturday drop offs will resume on its normal schedule starting in June (1st and 3rd Saturdays of the Month, with the exception being July which is the 2nd and 3rd Saturdays of the month). Staff will be limiting access to the yard and requiring that residents maintain social distancing and are wearing face coverings while in the yard. Proof of residency is also required.
Residents needing bulk pickup outside the first full week and due to the yard being closed may call the Township Building at 609-267-3217 (only during normal business hours, 8am to 4pm on Monday to Friday) and we will make every effort to schedule a pick up depending on working circumstances at that time. We apologize for the inconvenience.
PARKS AND PLAYGROUNDS
All Lumberton Township playgrounds will reopen to public use at dawn on July 2. All persons are strongly encouraged to keep with social distancing practices. The parking lot are reopened for use but will be monitored to ensure social distancing. The Township's walking trails and paths, Canoe Launch on Chestnut Avenue, Dog Park at the Village Green and Public Tennis Courts at Bryan Freeman Park still remain open to individuals to utilize at their pleasure. Tennis Courts are restricted to 4 players maximum at a time per court, and all social distancing rules must be followed.
All Lumberton Township Athletic Fields to include Baseball, Soccer, Football and Lacrosse reopened for "no-contact" practices, drills and simulations, on June 22. Additionally, low risk sports (i.e., archery, individual track and swimming events, golf and tennis) resumed contact practices and competition on June 22. Medium risk sports (i.e., baseball/softball, lacrosse, hockey, soccer and volleyball) may begin contact practices and competition on July 6. High risk sports (i.e., football, martial arts, group dance and cheer) may begin contact practices and competition on July 20.

Lumberton Township will reopen the use of our outdoor Municipal Basketball Courts on July 6 for our residents.
A summary of public recreational areas and their status follows:

| | |
| --- | --- |
| Public Park walking paths, biking paths and trails | OPEN |
| Village Green Dog Park | OPEN |
| Tennis Courts, Bryan Freeman Park | OPEN |
| Municipal Canoe Launch, Chestnut St | OPEN |
| Basketball Courts (Village Green, Bryan Freeman, Stonebrook Dr., Private Communities) | OPEN |
| Park Playgrounds (Public/Private) | OPEN |
| | |
| Baseball Fields | OPEN |
| Soccer/Athletic Fields | OPEN |
TOWNSHIP COMMITTEE MEETING
The regularly Township Committee meetings continue as scheduled, the next being this Thursday, July 16th at 7:30 PM. In keeping with state social distancing directives, local attendance will be limited to 30 persons including five Township officials (Mayor, one Committee Member, Administrator, Township Clerk, and Township Solicitor). The remaining twenty five people that wish to attend, with priority given to Township residents, will be seated on a first-come, first-serve basis. Members of the public wishing to make a public comment in lieu of attendance may do so electronically at bquinn@lumbertontwp.com. Please provide your comments by 4:00 p.m. on July 16, 2020. The meeting will also be streamcast live using Zoom Conferencing. Members of the public may connect to this stream for video and audio coverage by going to https://zoom.us/j/8159797571 with their web browser (instructions and how to your this app click this link). They may also dial in for audio off your mobile phone by calling 1-929-205-6099 and pressing 8159797571# to join.
TOWNSHIP CONSTRUCTION OFFICE
The New Jersey Department of Community Affairs (DCA) has sent out guidelines to all municipal construction code officials in regards to inspections during the COVID-19 Pandemic. The guidelines from DCA remain the procedure for inspections in Lumberton Twp. These guidelines supersede and make void any previous guidelines released by the Township, and are as follows:
All required inspections for new construction and any work on the exterior or outside of any occupied building should be performed as usual.
Rough inspections for new additions should be performed, provided no entry to the occupied home or building is required or that appropriate social distancing is in effect.
Contractors may report construction activity, such as rough inspections, in existing occupied buildings with photos or other documentation for the time being.
Items listed as Minor Work at NJAC 5:23-2.17A require only a final inspection. This includes inspections of replacement items, such as a residential heater, air conditioner and/or water heaters. These inspections may be deferred to a later date. The contractor should report construction activity as indicated in item 3 above.
The State's official notification is available by clicking the following link: DCA Memo on Construction Department Operations
The Lumberton Township Construction Office maintains normal hours Monday through Friday each week.
MUNICIPAL COURT
Municipal Court Sessions are still suspended due to the COVID-19 Pandemic. Individuals scheduled to appear before our Municipal Court to contest a traffic or parking ticket, or minor local ordinance violation will receive notice of a new court date. Our Municipal court employees will continue to handle certain matters, such as applications for temporary restraining orders, hearings where a defendant has been detained, and matters that implicate public safety. Filings and payments will continue to be accepted by dropping them off in the drop box located outside the Administrative Wing of the Municipal Building. Defendants, Attorneys and Residents may contact the Municipal Court Office by phone, 609-267-3389. Defendants also may continue to make payments through the Municipal Court online payment system at NJMCDirect.com. All persons needing to speak with Lumberton Township Municipal Court employees should contact the office Monday through Friday between the hours of 8am and 4pm.
SCHOOL DISTRICT
All Lumberton Schools as well as RVRHS, BCIT and BCSSD remain closed through the remainder of the 2019-2020 School Year in accordance with Governor Murphy's Executive Order and the Burlington County Health Department directives. For up to date information regarding the school district, parents and guardians are highly encouraged to maintain open lines communications by using the LTSD Hub located online at https://www.lumberton.k12.nj.us/covid-19/, using the REMIND smartphone app (https://www.lumberton.k12.nj.us/2019-2020-communications-via-remind/), and checking for emails distributed via the District's listserv.
The Lumberton Twp OEM has issued the follow Health Emergency Declaration for Lumberton Township. Below you will find a copy of the Declaration
Lumberton Township Health Emergency Declaration – COVID-19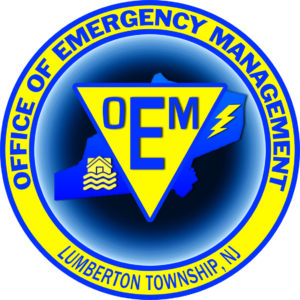 Attachments
MARCH 11, 2020 — The 2020 Census is getting underway and is ready for America to respond as the first invitations begin to arrive at the nation's estimated 140 million households March 12-20. For the first time, nearly everyone will be invited to respond online, by phone or by mail.
"Invitations are arriving in mailboxes across the country, and everyone will receive an invitation to respond through the mail or from a census worker soon," Census Bureau Director Steven Dillingham said. "We are encouraging everyone to respond once they receive their 2020 Census invitation."
A sample of the 2020 Census questionnaire is available on 2020census.gov along with more information about when most people will receive their invitations in the mail. The invitation mailings are addressed to "Resident" at the household address and do not include an individual's name. In areas more likely to respond online, mailings contain information on how to respond online. Households in areas of the country that are less likely to respond via the internet will also receive a paper questionnaire in their first mailing, along with information on how to respond online. All nonresponding households will receive a paper questionnaire after two more reminder mailings.
Along with the invitations, people can expect to find an overview of the census, a description of language assistance in English plus 12 non-English languages and a census ID number linked to their address. About 13 million households across the nation will receive bilingual English/Spanish invitations and questionnaires.
For a small portion of the country, in areas where mail is generally not delivered to the physical location of residences (e.g., small towns with P.O. box-only delivery), census enumerators will visit households to either hand-deliver invitations and paper questionnaires or to conduct interviews with households to collect their census data. The 2020 Type of Enumeration Area Viewer, an interactive map application, shows how different geographic areas will be invited to respond to the 2020 Census and which areas will not receive an invitation.
"Responding to the 2020 Census is easy, safe and important, and it's key to shaping the future of your community," Dr. Dillingham said. "The 2020 Census will determine the number of seats each state has in the U.S. House of Representatives, and influences how hundreds of billions of dollars in public funds are allocated for critical public services like emergency response, schools, hospitals, roads and bridges over the next 10 years."
The Census Bureau has created an interactive response rates map at 2020census.gov/response-rates so America can keep track of how they're doing. Beginning on March 20, the map will be updated daily to reflect current response rates from communities around the country. For comparison, the map also displays the final response rate from the 2010 Census.
Key Dates
The Census Bureau launched a public education and outreach campaign to inform the public on how and when to respond. Below is a timeline of Census Bureau mailings inviting households to respond online, by phone or by mail.
March 12-20: The U.S. Postal Service will deliver initial invitations to respond online and by phone. Areas that are less likely to respond online will receive a paper questionnaire along with the invitation to respond online or over the phone.
March 16-24: Reminder letters will be delivered.
March 26-April 3: Reminder postcards will be delivered to households that have not responded.
April 8-16: Reminder letters and paper questionnaires will be delivered to remaining households that have not responded.
April 20-27: Final reminder postcards will be delivered to households that have not yet responded.
If a household does not respond to the census, a census taker will follow up in person. In most cases, this will begin in mid-May and conclude in late July. Households can still respond on their own during this period, and if they do, they will be removed from the nonresponse follow-up workload. People are encouraged to answer all questions on the 2020 Census to avoid having a census taker knock at their door.
The U.S. Constitution mandates a census of the population every 10 years. Responding to the 2020 Census is easy, safe and important, and it's key to shaping the future of communities. The goal of the 2020 Census is to count everyone who lives in the United States as of April 1, 2020 (Census Day). Census statistics are used to determine the number of seats each state holds in the U.S. House of Representatives and informs how billions of dollars in public funds are allocated by state, local and federal lawmakers for public services like emergency response, schools, hospitals and bridges over the next 10 years.
For more information about the 2020 Census, visit 2020census.gov.
2020 Census Is Accessible Everyone
Why We Ask 2020 Census Fact Sheet
2020 Census Confidentiality Fact-sheet
Handout With General FAQs WHAT WONT BE ASKED HIGHLIGHTED
Lumbeton Residents,
On March 11, the World Health Organization (WHO) declared the Coronavirus situation a "pandemic", meaning that sustained virus transmission is now ongoing in multiple countries. This has caused our country, state and town to shift our strategy from one of preparedness and planning to response.
There are over 1,000 cases of COVID-19 identified in the U.S. and 38 deaths, including 1 in NJ. There are 23 presumed cases in NJ. We are not aware of any in Lumberton currently.
Last evening, the President addressed the nation and placed restrictions on travel, waived certain medical co-payments for COVID-19 treatments and instructed the SBA to provide low-interest loans to small business in an effort to counteract the physical and economical impact of this virus.
As a community, we must all work together to stem the spread of this virus and minimize its impact on our daily lives and our local economy. Together with our public safety agencies, our schools and local businesses, Lumberton Township is preparing to meet this challenge.
Everyone in the community plays a role in stopping the spread of coronavirus, so please read through and practice the following guidelines as directed by the NJDOH and CDC:
Personal hygiene is extremely important in protecting you and your family. Frequent hand washing with soap and water for at least 20 seconds and the use of sanitizing hand wash is your best defense.
Practice "social distancing" – avoid large gatherings and crowds such as at sporting arenas/stadiums, concert halls and other public spaces. When in groups, try and remain 6 feet or more from others. Forgo handshakes, hugs and other close contact outside of family members.
Limit travel, particularly on long flights. Cruise ship travel is highly discouraged. Use care if traveling significant distances by bus or train to avoid touching common surfaces, and carry hand sanitizer with you.
Be prepared for school closings/event cancellations and have a plan for alternate child care if you cannot stay home.
Check with employers on telecommuting, remote access to work from home, and sick leave policy changes.
Have a plan ready to care for sick family members, preferably in a separate room of the house with a segregated bathroom.
Be sensitive to what you post on social media! Only trust information from official sources. Mis- or unverified information can lead to grave anxiety and responses by the public which can cause strife in the community. Think before you post about what effects your comments can have.
If you have questions or concerns about COVID-19 and coronavirus, please call 1-800-222-122 (1-800-962-1253 if using an out of state phone). DO NOT call this number if you are sick – contact your local healthcare provider.
Lumberton Township OEM
Address/Location
Lumberton Twp. Emergency Services
35 Municipal Dr
Lumberton, NJ 08048
Contact
Emergency: 9-1-1
Non-emergencies: 609-267-8300