News
PLEASE TAKE NOTICE that on Monday, December 30, 2019, at 11:00 AM the Township of Lumberton will receive Requests for Qualifications (RFQ) for Grant Writing and Consulting Services for Year 2020 at the Township Clerk's Office located in the Municipal Building, 35 Municipal Drive, Lumberton, NJ 08048. Copies of the RFQ will be available online at www.lumbertontwp.com and at the Township Clerk Office in the Township of Lumberton Municipal Building, 35 Municipal Drive, Lumberton, NJ.
Published by: Bobbie Quinn, RMC, Lumberton Township Clerk
RFQ- Grant Writing Services 2020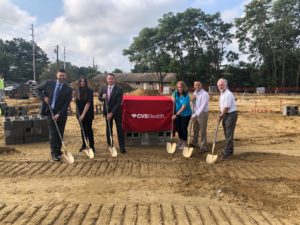 Photo credit from left to right: Jason Hughes, CVS District Leader, Committeewoman Kendra Hatfield, Mayor Sean Earlen, Deputy Mayor Kristin Januseski, Committeeman Jim Dwyer and Al Stein, CVS Real Estate Developer from Feinberg & McBurney.
Press Release – August 16, 2019,
Lumberton, NJ – Yesterday Lumberton Township Committee Members and CVS Executives broke ground on the new CVS Pharmacy retail store to be located on the corner of Route 38 and Main Street (County Route 691). This project has been in development since January of 2017, when the Township Committee moved to condemn the property for redevelopment purposes. The Township ultimately did not have to go through with the condemnation proceedings because they were able to work with CVS Executives and the prior owners of the property to overcome the various obstacles presented which has allowed this project to became a reality.
"We are pleased to have been able to work with CVS to bring this exceptional ratable to Lumberton. It will provide a significant benefit to our residents and serve as an anchor to the continued revitalization of the Route 38 corridor," said Mayor Sean Earlen.
"Lumberton offers CVS a great opportunity to expand our market. The Township's stable tax rate and commitment to its commercial partners guided CVS in its desire to come to seek this location for its next store," explained Al Stein, Real Estate Developer with Feinberg & McBurney of Cherry Hill, New Jersey.
"We appreciate that the Township Committee was able to help bring the former landowner and our client together and work through the developmental hurdles that can be present in abandoned properties such as this one," Stein continued.
This corner lot at the intersection of Route 38 and Main Street, County Route 691 has sat vacant since 2009 following a fire at the former gas station located on the property. The project also includes the adjacent property which formally contained a restaurant. CVS purchased the restaurant property on November 30, 2017 and went under contract with the former Exxon property at that same time until it was formally purchased on January 9, 2019. Before closing on the former gas station property, CVS received its approvals from the Lumberton Township Land Development Board (LDB) to construct its store at the May 16, 2018 LDB meeting. Under the Land Development Board approval, CVS is permitted to construct a 9,656 square foot building, with intended operational hours of 9am to 10pm, Monday through Saturday and 9am to 9pm on Sundays.
Deputy Mayor Kristin Januseski stated, "CVS's decision to locate its next store in Lumberton will transform this intersection and remove the blight that was left by the vacated gas station. We look forward to this store's opening which is expected to be in early December of this year and is expected to employ more than 20 full and part time employees."
2019 Recycling Collection

Schedule
August – 12th, 26th
September – 9th, 23rd
October – 7th, 21st
November – 4th, 18th
December – 2nd, 16th, 30th
Don't forget you can download the Recycling Coach App to your mobile device for calendars, news and more!

FLOOD VICTIM ASSISTANCE
NJ211 has partnered with the County and Community Organizations Active in Disasters (COAD) to provide relief assistance to those affected by last week's flooding. For info and to request help, call 2-1-1 or click icon above to visit the web page
Also, click below for helpful info on returning to your home after it's been flooded!

MULCH IS AVAILABLE AT THE PUBLIC WORKS YARD
Weekdays @ 7:00AM to 2:30PM ~OR~
1st & 3rd Saturday of month @ 7:30AM to 1:30PM
2019 Lumberton Township Reorganization Meeting
Last night the Lumberton Township Committee Reorganized and welcomed Committeewoman Kendra Hatfield and Committeeman Ryan Tuno to the Board. Committeeman Sean Earlen and Committeewoman Kristin Januseski were unanimously selected as Mayor and Deputy Mayor for the year 2019.
My colleagues and I on the Township Committee are looking forward to a productive year of working together to continue to make Lumberton Township a great community to live, work and raise a family. – Mayor Sean Earlen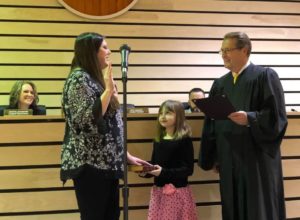 Committeewoman Hatfield being sworn into office by Judge Haines.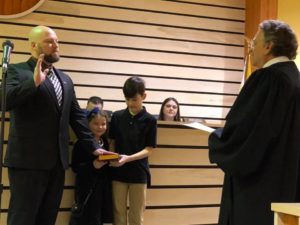 Committeeman Tuno being sworn into office by Judge Bookbinder.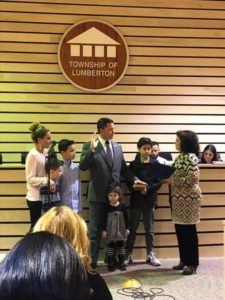 Mayor Earlen being sworn into office by Senator Addiego.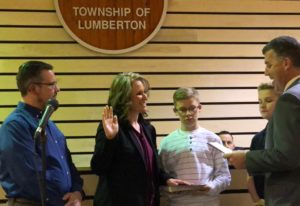 Deputy Mayor Januseski being sworn into office by Freeholder Tiver.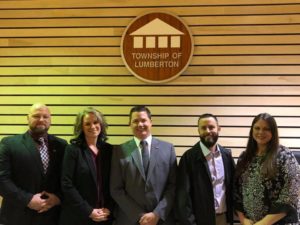 The 2019 Lumberton Township Committee
Committeeman Tuno, Deputy Mayor Januseski, Mayor Earlen, Committeeman Dwyer, and Committeewoman Hatfield
Lumberton Township Opens Glenwood Park Playground in the Hollybrook section of town
Lumberton, NJ – October 5, 2018 –Utilizing a grant from the Burlington County Freeholders, Lumberton Township completely refurbished the Glenwood Park Playground in the Hollybrook section of town. The Township will also demolish the existing tennis courts at the Village Green Park to make way for two brand new basketball courts and to purchase new playground equipment for the Canterbury Court playground. Township Officials held a ribbon cutting ceremony to mark the opening of the Glenwood Park Playground on October 5, 2018 and expect to open the Village Green Basketball court by the end of October. Canterbury Court Playground construction is expected to be held off until the Spring of 2019.
Mayor Mike Mansdoerfer stated, "Lumberton Township is extremely thankful for the leadership of one of our fellow residents, Freeholder Director Kate Gibbs, along with the rest of the Burlington County Freeholders for their continued support of our town's active and passive recreation needs." "Since the 2011, we have received $1,078,710.00 dollars in grant money from the county and these dollars have already produced a new playground here at the Village Green, along with a Dog Park, Community Garden and Canoe Launch on the Rancocas, we have added sports fields at our Municipal Building Complex as well as completely renovating all of our recreation amenities in the Bobby's Run Section of town," added Mayor Mansdoerfer.
"We look forward to continuing our efforts to improving the recreation amenities our Township has to offer our residents and we look forward to opening our new Basketball Courts at the Village Green later this month," added Committeeman Jim Conway, who serves as one of the Engineering Project liaisons to the Township Committee. "With the continued assistance from the Burlington County Freeholder Board through the Municipal Park Development Program, we will be also able to open another new playground on Canterbury Court next spring and we hope to use future grant submissions to help transform the soon to be Township acquired Ironwood Outdoor Park so that all residents have access to its nature trails both on land and on the Rancocas Creek," stated Committeeman Conway.
The Lumberton Township Committee originally anticipated that the $200,000 grant would be used to construct an amphitheater. However after due diligence was completed on the proposed site, it was determined to not be cost effective with all the DEP permit cost needed to authorize the construction of this project. "We wanted to get the most bang for our grant buck," Mansdoerfer explained. "By shifting our efforts from the amphitheater, we were able to rehabilitate three parks. Looking at these neighborhood improvements here in Hollybrook, I am glad we made this decision to focus on this park first. I am really proud of the final result and look forward to seeing families enjoy this amenity," he concluded.