News
What is the Home Improvement Loan Program?
Burlington County receives an allocation of Community Development Block Grant (CDBG) funds each year from the Federal government to provide assistance to residents of Burlington County through a variety of local housing-related and public service projects. The Board of Chosen Freeholders has designated portion of these funds to be made available through the Home Improvement Loan Program, which is administered by Community Development and Housing.
The Home Improvement Loan Program provides technical assistance to qualified homeowners and makes 0 % interest property improvement loans of up to $20,000 to correct substandard housing conditions and to eliminate health and safety hazards.
Examples of eligible work include foundation, plumbing, heating and electrical repairs, roof work, termite and dry-rot repairs, water and sewer hookups, energy conservation measures and remodeling to provide wheelchair accessibility.
Loans are made for the rehabilitation of owner-occupied single family houses only. Technical assistance provided through the program includes assessing the scope of needed repairs, consulting with building officials, architects and other professionals as needed, assisting the homeowner in obtaining bids and contracting for the repairs, monitoring construction and issuing payments.
Burlington County Home Improvement Program Brochure
Attachments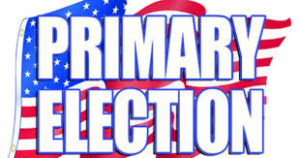 July 7, 2020
Polls open 6:00 am- 8:00pm
• In direct response to the COVID-19 Pandemic and in accordance to Executive Order 144 the 2020 Primary election will be held on July 7, 2020
• Election will primarily be VOTE-BY-MAIL
• If you go to a polling location you will ONLY be allowed to do a PROVISIONAL BALLOT
• All voters will receive a vote by mail ballot and return postage paid envelope
• All active Republicans and Democrats will receive a vote by mail ballot and return postage paid envelope
• All Unaffiliated and Inactive voters will receive a vote by mail application and return postage paid envelope
• Ballots CANNOT be returned to polling locations
• ONLY VOTERS WITH DISABLITIES preventing them from vote using a paper ballot will be able to vote on ADA-accessible machines at polling location
• There will be limited polling locations available • The Deadline to Register to vote is June 16, 2020
Remember your VOTE is your VOICE!!
Please see the below link to a Flyer provided by the US Department of Labor:
Statement on the Six Cases of COVID-19 in Lumberton
As of March 29, 2020, the Burlington County Health Department informed Lumberton Township officials that they have confirmed six positive cases of COVID-19 within Lumberton Township. The Burlington County Health Department has now changed the way they are reporting the County's number of confirmed positives cases to the chart you can find in the above attachment.
Contact tracing to determine if these individuals might have traveled to any public place before being diagnosed or been in contact with individuals is still ongoing by Health Department officials. They have informed the Township that they are focusing on close contact, which is defined as closer than 6 feet for more than 10 minutes, household contacts and those that work in high risk settings such as healthcare workers and long-term care facilities. Lumberton Township will provide any such information to the public when it is made available to us by the Burlington County Health Department. Due to federal HIPPA laws and regulations, the names and addresses of these individuals will not be released to the public, however the County Emergency Communications Center has flagged this residence and if first responders are called to that location they will be warned to take further precautions, above the new guidelines they are operating under for this pandemic for normal calls for service.
Though contact tracing is being investigated, Lumberton Township Officials would like to remind our residents that the best way to fight this pandemic and flatten the curve is to, (1) frequently wash your hands with soap and water for at least 20 seconds and use of alcohol (60% or more) based sanitizing hand wash provides your best defense, (2) practicing "social distancing" by avoiding large gatherings and crowds, when in public keep 6 feet or more of separation from others and avoid handshakes, hugs and other close contact with individuals, (3) if you sneeze or cough, you should do so into your elbow and wash your hands immediately after. Lastly if you are sick or if you think you've been exposed to COVID-19, call your primary care provider (doctor) and he/she will give you advice if you develop a fever or other symptoms. But most importantly if you feel sick please stay home and isolate yourself from others in your household.
Residents are also reminded to heed Governor Murphy's Executive Order No. 107, which orders all residents to "Stay at Home" until further notice. This order provides for certain exceptions, such as obtaining essential goods or services, seeking medical attention, visiting family or close friends, reporting to work only if you are essential personnel, or engaging in outdoor activities. Governor Murphy's Executive Order further directs the closure of all non-essential retail businesses to the public, with the exceptions of:
• Grocery stores, farmer's markets and farms that sell directly to customers, and other food stores, including retailers that offer a varied assortment of foods comparable to what exists at a grocery store;
• Pharmacies and medical marijuana dispensaries;
• Medical supply stores;
• Gas stations;
• Convenience stores;
• Ancillary stores within healthcare facilities;
• Hardware and home improvement stores;
• Banks and other financial institutions;
• Laundromats and dry-cleaning services;
• Stores that principally sell supplies for children under five years;
• Pet stores;
• Liquor stores;
• Car dealerships, but only for auto maintenance and repair, and auto mechanics; As of March 30, 2020 Online Sales and Remote Sales that can be completed by phone, text, or email can be conducted.
• Printing and office supply shops;
• Mail and delivery stores.
• Effective March 31, 2020 at 8am Federal Firearms Licensees are added to the list of essential retail businesses.
• As of March 30, 2020, individual appointments to view real estate with realtors by individuals or families shall be considered essential retail businesses.
Nothing in the Order shall limit 1) the provision of health care or medical services; 2) access to essential services for low-income residents, such as food banks; 3) the operations of the media; 4) law enforcement agencies, or 5) the operations of the federal government.
Additionally, the order mandates that all businesses or non-profits, wherever practicable, must accommodate their workforce for telework or work-from-home arrangements. To the extent a business or non-profit has employees that cannot perform their functions via telework or work-from-home arrangements, the business or non-profit should make best efforts to reduce staff on site to the minimal number necessary to ensure that essential operations can continue.
Lumberton Township residents can call 2-1-1 or 1-800-962-1253 with non-emergent questions. The call center is open 24/7 and has multi-language capabilities. You can also text NJCOVID to 898-211 to receive text information and stay informed. To receive live text assistance, text your zip code to 898-211. Please note that the call center is not able to diagnose or give medical advice. Healthcare providers should be contacted if medical advice is needed. If you or someone you know has special needs requiring assistance in case of an emergency, please register today at www.registerready.nj.gov. If you are needing special assistance today, call 2-1-1 or log on to www.nj211.org.
Attachments
GENERAL INFORMATION ABOUT COVID-19:
The NJ Poison Control Center and 2-1-1 have partnered to provide information to the public on COVID-19. The hotline number is 1-800-962-1253. Or, you can call 2-1-1 with questions or concerns, or to access NJ's statewide comprehensive information and referral service. Or text NJCOVID to 898-211 to receive text information and stay informed. Additionally, NJ launched a COVID-19 Information Hub, covid19.nj.gov, where residents can get up-to-date information.
COVID-19 DASHBOARD AND HEALTH RELATED INFO:
The New Jersey Department of Health website www.nj.gov/health has updated information daily related to the public health emergency. Or visit www.cdc.gov
IF YOU'RE SICK:
Call your doctor if you're sick or if you think you've been exposed to COVID-19. Your doctor can give you medical advice if you develop a fever or other symptoms.
TESTING SITES:
A testing site opened on Friday at Bergen Community College for NJ residents only (proof of ID necessary) and those exhibiting symptoms. The site will have the capacity to test 2,500/ week. Monmouth County site is opening today at PNC Bank Arts Center. There are also plans for a testing site to open at Camden County College in Blackwood once tests become available, and the Burlington County Coronavirus Task Force is looking to set up a site within the county soon.
CLOSURES, CROWDS, AND CURFEWS:
All social gatherings and assemblies, such as parties, celebrations, or other social events, are cancelled including conferences, large meetings, parties, festivals, parades, concerts, sporting events, weddings, and other types of assemblies. Please note that law enforcement may charge folks who disregard these rules.
The Governor ordered the following businesses to close: non-essential retail; casinos and racetracks; gyms and fitness centers; entertainment such as movie theaters, performing arts centers, concert venues, and nightclubs; shopping malls; places of public amusement; and personal care businesses such as barbershops, hair salons, spas, nail and eyelash studios, tanning salons, and tattoo and massage parlors. Bars and restaurants must be closed for on-premise dining but may provide take-out and delivery service only.
Certain essential businesses and facilities are considered exempt from these closures includes grocery and pet stores, food banks, medical industries, pharmacies and medical supply stores, gas stations, banks, and restaurants for take-out/ delivery. A complete list can be found here: https://covid19.nj.gov/faqs/nj-information/businesses-and-organizations/how-do-executive-orders-no.-107-and-108-on-closures-and-social-distancing-affect-my-business
INFORMATION FOR BUSINESSES:
The State has created a new webpage for businesses with questions related to COVID-19/Novel Coronavirus. There is a portal to submit a question or use the chat tool. http://cv.business.nj.gov/
RELIEF FOR SMALL BUSINESSES:
The US Small Business Administration approved NJ for disaster relief.
https://www.sba.gov/page/coronavirus-covid-19-small-business-guidance-loan-resources
WORKER PROTECTION PROGRAMS:
Visit NJ Department of Labor's website to determine if you are eligible for unemployment, family leave, earned sick time or worker's compensation benefits during the coronavirus outbreak. The chart below is a useful tool. For more info:
https://www.nj.gov/labor/worker-protections/earnedsick/covid.shtml
FILING FOR UNEMPLOYMENT:
Many residents have reached out to our office for help with unemployment benefits. The NJ Department of Labor is encouraging anyone seeking benefits to apply on their website: https://myunemployment.nj.gov/
UTILITIES
The NJ Board of Public Utilities announced that utilities have suspended all shut-off orders for electric and gas. https://www.bpu.state.nj.us/bpu/newsroom/2020/approved/20200313.html
HOUSING
Governor Murphy recently enacted a moratorium on removals due to evictions and foreclosures. However, we know that the next few weeks, maybe months, may be financially challenging for some. NJ Department of Community Affairs has various rental assistance programs that can help during times like these and is accepting applications. Learn more: https://njdca-housing.dynamics365portals.us/en-US/
SOCIAL SERVICES/ CHILDCARE
For information on childcare, cash shelter and food assistance, NJ FamilyCare/Medicaid, individuals with disabilities, mental health and substance abuse, and support for older residents please visit:
https://www.state.nj.us/humanservices/news/press/2020/approved/20200318b.html
PRICE GOUGING
Sadly, people will try to take advantage of others during times of crisis. Beware of scams and price gouging during this public health emergency. Report it at NJ Consumer Affairs: https://www.njconsumeraffairs.gov/
MOTOR VEHICLES:
All New Jersey Motor Vehicle Commission agencies will be closed. All driver licenses, non-driver IDs, vehicle registrations, and inspection stickers expiring before May 31 have been extended by two months. Most renewals, replacements, changes of address, and other transactions can be processed online at www.NJMVC.gov. If your REAL ID Appointment was cancelled due to Agency closure from March 16, 2020 through March 29, 2020, keep your cancellation email. When MVC re-opens, you can bring the email to your appointment agency anytime within 30 days and get a REAL ID without an appointment.
MUNICIPAL COURTS
Chief Justice Rabner announced that municipal court sessions in New Jersey will be suspended for two weeks to minimize exposure to the coronavirus. More information about the closures may be found online at njcourts.gov.
FOOD SECURITY
The NJ Department of Agriculture has a list of Food Banks that serve each New Jersey County: https://www.nj.gov/agriculture/divisions/fn/pdf/EFO%20%20Listing.pdf
TAX FILING
IRS has extended tax deadlines from April 15 to July 15.
CENSUS 2020
We are in the midst of the 2020 Census. Our current public health emergency is a reminder of the importance of having an accurate Census count. Even if you received an invitation by mail, or even if you have not, you can still complete the Census online at my2020Census.gov. It's simple and only takes 10 minutes to complete.
NJTRANSIT:
NJ TRANSIT is running special weekday service beginning Monday, March 23rd, 2020. The River Line special weekday schedule maybe be found on NJ TRANSIT's website by clicking here. Due to the rapidly changing nature of the COVID-19 response, customers are strongly encouraged to sign up for My Transit alerts and activate push notifications on the mobile app to receive the latest status of the system.
STUDENT LOANS:
For loan deferment due to unemployment: https://www.hesaa.org/Documents/Relief%20Options/Unemployment.pdf.
For loan deferment due to temporary total disability: https://www.hesaa.org/Documents/NJCLASSTempDisabilityForm.pdf.
For loan deferment due to financial hardship: https://www.hesaa.org/Documents/Relief%20Options/Financial%20hardship.pdf.
"Since the New Year, Deputy Mayor Hatfield, Committeewoman Ryan and myself have committed ourselves to reviewing all aspects of Lumberton Township Government to ensure flexibility and efficiency.
One item that was troublesome to us is that at the end of December last year, there was a last second Resolution authorizing an extension to the EMS Contract which was put forward under our former Mayor, that Ms. Hatfield and I thought was a one-year extension which had been the normal practice for several years. However, that Resolution actually authorized a five-year contract to our Lumberton Emergency Squad. While we agree whole heartedly that the Lumberton Emergency Squad is doing an excellent job for our residents, we feel that the Township should keep to its normal practice of extending a one-year contract for these services because of the ever-changing environment surrounding Emergency Medical Services. This is why we have been looking into options with our professionals and talking with the leadership of the squad to find the best solution for Lumberton Township. To be clear, at no point have we contemplated shutting down the Lumberton Emergency Squad and taking over their services. This fact can be confirmed by our Township Administrator, as he is working with us to introduce our 2020 Township Budget and nowhere within that budget do, we allocate funds for such a takeover.
While we are on the subject of the Township Budget, another statement that has been made is that any change the Township enacts will cause taxes to rise drastically. That is simply not the case and we intend to introduce the 2020 Budget in short order and that Budget will be a flat Budget with zero increase to the Township Taxpayers. In fact, this Budget will expand emergency services by hiring an additional police officer, bringing our force up to four officers a shift, a level we have not seen since the Township was forced to do layoffs due to a failed Referendum, while also investing in more equipment for our emergency services personnel.
In closing, I want the residents to know that we have heard their concerns and we will make the best decision for all of Lumberton."
2020 Lumberton Township
Reorganization Meeting
The Lumberton Township Committee Reorganized and welcomed Committeewoman Rue Ryan to the Board last evening. In addition, Committeeman Ryan Tuno and Committeewoman Kendra Hatfield were unanimously selected as Mayor and Deputy Mayor for the year 2020.
"My colleagues and I on the Township Committee would like to welcome our newest Committee Member, Committeewoman Rue Ryan to the Board. We are looking forward to a productive year of working together to continue to make Lumberton Township a great community to live, work and raise a family." Mayor Ryan Tuno.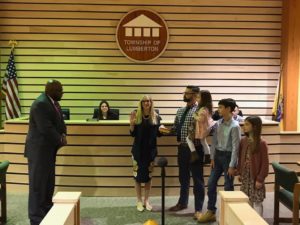 Committeewoman Rue Ryan being sworn in by State Sen. Troy Singleton, with her husband and three children.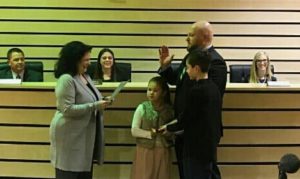 Mayor Ryan Tuno, with his two children, being official sworn in by State Sen. Dawn Marie Addiego.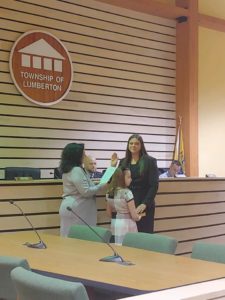 Deputy Mayor Kendra Hatfield being sworn in by State Den. Dawn Marie Addiego, with her daughter holding the bible.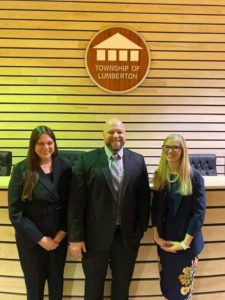 From right to left, Deputy Mayor Kendra Hatfield, Mayor Ryan Tuno and Committeewoman Rue Ryan.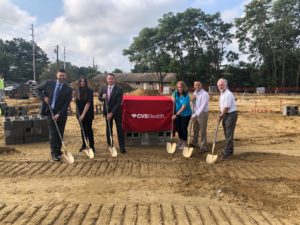 Photo credit from left to right: Jason Hughes, CVS District Leader, Committeewoman Kendra Hatfield, Mayor Sean Earlen, Deputy Mayor Kristin Januseski, Committeeman Jim Dwyer and Al Stein, CVS Real Estate Developer from Feinberg & McBurney.
Press Release – August 16, 2019,
Lumberton, NJ – Yesterday Lumberton Township Committee Members and CVS Executives broke ground on the new CVS Pharmacy retail store to be located on the corner of Route 38 and Main Street (County Route 691). This project has been in development since January of 2017, when the Township Committee moved to condemn the property for redevelopment purposes. The Township ultimately did not have to go through with the condemnation proceedings because they were able to work with CVS Executives and the prior owners of the property to overcome the various obstacles presented which has allowed this project to became a reality.
"We are pleased to have been able to work with CVS to bring this exceptional ratable to Lumberton. It will provide a significant benefit to our residents and serve as an anchor to the continued revitalization of the Route 38 corridor," said Mayor Sean Earlen.
"Lumberton offers CVS a great opportunity to expand our market. The Township's stable tax rate and commitment to its commercial partners guided CVS in its desire to come to seek this location for its next store," explained Al Stein, Real Estate Developer with Feinberg & McBurney of Cherry Hill, New Jersey.
"We appreciate that the Township Committee was able to help bring the former landowner and our client together and work through the developmental hurdles that can be present in abandoned properties such as this one," Stein continued.
This corner lot at the intersection of Route 38 and Main Street, County Route 691 has sat vacant since 2009 following a fire at the former gas station located on the property. The project also includes the adjacent property which formally contained a restaurant. CVS purchased the restaurant property on November 30, 2017 and went under contract with the former Exxon property at that same time until it was formally purchased on January 9, 2019. Before closing on the former gas station property, CVS received its approvals from the Lumberton Township Land Development Board (LDB) to construct its store at the May 16, 2018 LDB meeting. Under the Land Development Board approval, CVS is permitted to construct a 9,656 square foot building, with intended operational hours of 9am to 10pm, Monday through Saturday and 9am to 9pm on Sundays.
Deputy Mayor Kristin Januseski stated, "CVS's decision to locate its next store in Lumberton will transform this intersection and remove the blight that was left by the vacated gas station. We look forward to this store's opening which is expected to be in early December of this year and is expected to employ more than 20 full and part time employees."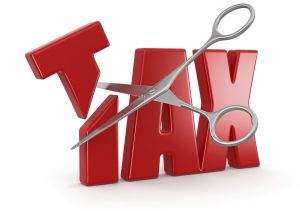 April 2, 2018 – Lumberton Township – The Lumberton Township Committee adopted its 2018 budget on Tuesday evening which lowered the local purpose tax for the second year in a row. The local purpose tax is lowered from .411 to .406 per $100 of assessed value which represents an approximate savings of $16.00 for the average home assessed at $299,734.00.
"We are thrilled to be able to support and adopt a sound fiscal budget which lowers taxes," said Mayor Mike Mansdoerfer. "This year was a culmination of more hard work and penny pinching, evaluating every dollar spent to make sure that we are good stewards of our residents' taxes. We know how hard our residents work to earn their income and want to ensure that we are as equally protective when their tax dollars are allocated to services," he continued.
The 2018 budget allocates $8,750,904 in spending. This is actually $1,644,931 less than the Township spent in 2008 and continues a decade long trend of stable or declining spending.
The Township's budget funds all critical tasks of the local government. "We developed a plan to address our community needs including building the new Emergency Services Building without increasing our debt service obligations. Most importantly, we allocated funds in the budget to bring a school resource officer back into the schools," said Deputy Mayor Kristin Januseski.
The Township's bond rating is AA Stable, confirming the bond market recognizes the Township's sound fiscal planning.
"Our budget also uses grants and outside funding sources to help continue to make improvements to our infrastructure," said Committeeman Jim Conway who is charged with overseeing many of the town's road and improvement projects. "This year we will again pave and repair more roadways and improve our parks and recreation system," he concluded.
For a copy of the Township's budgets, audits and annual financial statements, contact the Municipal Clerk or go online to www.lumbertontwp.com
Click link below to view documents: