News
2019 ELECTION POLLING PLACES BY DISTRICT
Please note that District 4, 5 and 10 have been relocated to the new Emergency Service Building
# – Location, address:
01 – Municipal Building, 35 Municipal Dr., Court Room
02 – Bobby's Run School, 32 Dimsdale Dr., PAC
03 – Bobby's Run School, 32 Dimsdale Dr., PAC
04 – Emergency Services Building, 34 Municipal Dr., Meeting Room
05 – Emergency Services Building, 34 Municipal Dr., Meeting Room
06 – Municipal Building, 35 Municipal Dr., Community Room
07 – Municipal Building, 35 Municipal Dr., Court Room
08 – Municipal Building, 35 Municipal Dr., Court Room
09 – Municipal Building, 35 Municipal Dr., Community Room
10 – Emergency Services Building, 34 Municipal Dr., Meeting Room
Join a Fun Summer Swim Team
at RCBC Pool in Pemberton – Practice starts May 2nd
For more information, contact Coach Beth at Aquabarons@aol.com
Swim Team Ages 5 – 18 Pre-Team starts at age 4
Tryouts and Registration
(New Swimmers only need to attend one scheduled tryout session)
April 8th 6:00 – 7:00 pm
April 9th 5:00 – 7:00 pm
April 10th 6:00 – 7:00 pm
April 11th 5:00 – 7:00 pm
April 12th 6:00 – 7:00 pm
April 13th 8:30 – 11:30 am
*If you are unable to attend one of the above schedules tryouts, Contact Coach Beth to schedule an alternative time.
Click below to print flyer:
Last night the Lumberton Township Committee Reorganized and welcomed Committeewoman Kendra Hatfield and Committeeman Ryan Tuno to the Board. Committeeman Sean Earlen and Committeewoman Kristin Januseski were unanimously selected as Mayor and Deputy Mayor for the year 2019.
My colleagues and I on the Township Committee are looking forward to a productive year of working together to continue to make Lumberton Township a great community to live, work and raise a family. – Mayor Sean Earlen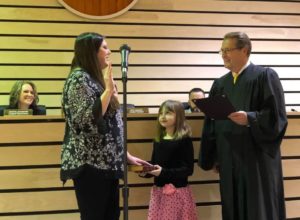 Committeewoman Hatfield being sworn into office by Judge Haines.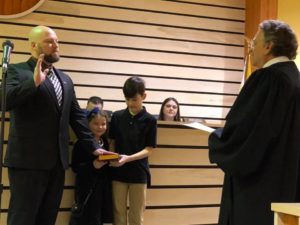 Committeeman Tuno being sworn into office by Judge Bookbinder.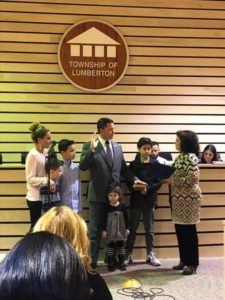 Mayor Earlen being sworn into office by Senator Addiego.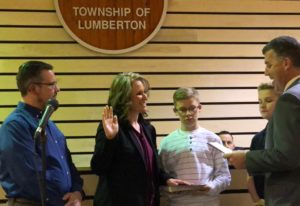 Deputy Mayor Januseski being sworn into office by Freeholder Tiver.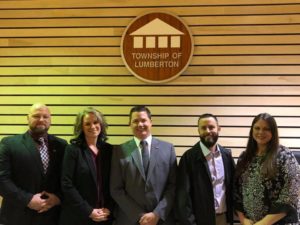 The 2019 Lumberton Township Committee
Committeeman Tuno, Deputy Mayor Januseski, Mayor Earlen, Committeeman Dwyer, and Committeewoman Hatfield
Lumberton, NJ – October 5, 2018 –Utilizing a grant from the Burlington County Freeholders, Lumberton Township completely refurbished the Glenwood Park Playground in the Hollybrook section of town. The Township will also demolish the existing tennis courts at the Village Green Park to make way for two brand new basketball courts and to purchase new playground equipment for the Canterbury Court playground. Township Officials held a ribbon cutting ceremony to mark the opening of the Glenwood Park Playground on October 5, 2018 and expect to open the Village Green Basketball court by the end of October. Canterbury Court Playground construction is expected to be held off until the Spring of 2019.
Mayor Mike Mansdoerfer stated, "Lumberton Township is extremely thankful for the leadership of one of our fellow residents, Freeholder Director Kate Gibbs, along with the rest of the Burlington County Freeholders for their continued support of our town's active and passive recreation needs." "Since the 2011, we have received $1,078,710.00 dollars in grant money from the county and these dollars have already produced a new playground here at the Village Green, along with a Dog Park, Community Garden and Canoe Launch on the Rancocas, we have added sports fields at our Municipal Building Complex as well as completely renovating all of our recreation amenities in the Bobby's Run Section of town," added Mayor Mansdoerfer.
"We look forward to continuing our efforts to improving the recreation amenities our Township has to offer our residents and we look forward to opening our new Basketball Courts at the Village Green later this month," added Committeeman Jim Conway, who serves as one of the Engineering Project liaisons to the Township Committee. "With the continued assistance from the Burlington County Freeholder Board through the Municipal Park Development Program, we will be also able to open another new playground on Canterbury Court next spring and we hope to use future grant submissions to help transform the soon to be Township acquired Ironwood Outdoor Park so that all residents have access to its nature trails both on land and on the Rancocas Creek," stated Committeeman Conway.
The Lumberton Township Committee originally anticipated that the $200,000 grant would be used to construct an amphitheater. However after due diligence was completed on the proposed site, it was determined to not be cost effective with all the DEP permit cost needed to authorize the construction of this project. "We wanted to get the most bang for our grant buck," Mansdoerfer explained. "By shifting our efforts from the amphitheater, we were able to rehabilitate three parks. Looking at these neighborhood improvements here in Hollybrook, I am glad we made this decision to focus on this park first. I am really proud of the final result and look forward to seeing families enjoy this amenity," he concluded.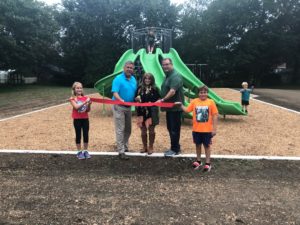 Sign up for a Garden Plot
@
The Village Green Park Community Garden
Link to the Community Garden Plot Application
Lumberton Township Committee & Schools Partner for "Be A Municipal Official For A Day" Program
April 26, 2018 – Lumberton Township – At the April 24, 2018 Lumberton Township Committee Meeting, students from the Young Republic Club, the student government for the Lumberton Middle School, took the helm of Township Government for the second annual "Be a Municipal Official for a Day." In 2016, students formed the Young Republic Club as a democratically elected student government, with two parties, the Blue Party and the Gold Party. They have adopted a constitution and Bill of Rights for their fellow students, and represent them before the School District's Administration and the Board of Education. During Tuesday Night's Township Meeting each student elected official was paired with one of the Township's Elected or Appointed Officials, to conduct an actual Township Committee Meeting.
"For the past few years, our Township and School Officials have worked closely with each other through quarterly meetings to ensure our resources are being used to the fullest, due to these meetings we have produced further shared services between our two entities which include providing a School Resource Officer, vehicle maintenance and fueling services, in addition to this second annual event geared toward engaging our local students in the role of the local government in their community," stated Mayor Mike Mansdoerfer. "Last night we welcomed these students to the Township Municipal Building, took them on a tour of our departments and had them shadow our local officials through our regular township meeting, allowing them to truly take part in conducting the business of Township Government with our Township Committee Members affirming each of their actions," added Mayor Mansdoerfer.
Prior to the 7:30pm start to the Township Meeting, each student was given the opportunity to sit down with the Elected or Appointed Township Official they would be shadowing, to discuss their role in the meeting and how each would contribute to enacting the items on that evening's agenda. Actions taken by our Student Leaders included adopting an ordinance restricting parking to residents only near Virtua Hospital, amending fees for the Township's Construction Department, amending two employment contracts, providing contact representatives for the BURLCO JIF, adding grant funds to the 2018 budget to include resources to pave Allspice and Savory Way, plus the remaining part of Nassau Road, awarded a contract for repairs of a Storm water line behind the Post Office and Buttonwood School and paid the Township's bills.
"We hope that tonight was a great learning experience for our local students and that most importantly they had fun running their Town's government for a day," concluded Mayor Mansdoerfer. The following is a list of the Students' Names and the Positions they held:
Roles Student Township Official
Mayor Griffin Gaughan Michael Mansdoerfer
Deputy Mayor Stephanie Kraska Kristin Januseski
Committeeman Rohan Patel Sean Earlen
Committeeman Anjali Darji James Dwyer
Committeeman Joelle Darragh James Conway
Twp. Administrator James Humphreys Brandon Umba
Police Chief Scotty Allen Anthony DiLoreto
Twp. Clerk Stephanie Pallante Deb Shaw-Blemings
Twp. Solicitor Ian Phillips George Morris, Esq.
Police Lt./OEM Sean Powell Lt. Ed Begolly
Police Lt./Patrol Jackson Beairsto Lt. Nick Peditto
Chief Finance Officer J T Moses Robin Sarlo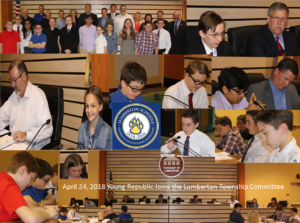 LUMBERTON SWEARS IN ANOTHER NEW POLICE OFFICER
Keeping its promise to the residents, Mayor Mike Mansdoerfer administered the oath of office to Erik Jarvis as a Special Law Enforcement Officer Class 1. Officer Jarvis increases the size of the police department to 21 officers.
"Officer Jarvis has previously served as the Chaplain for the department. Even as our newest officer, his background, education and training transcends a new leadership with his fellow officers and further increases the professionalism, humbleness and kindness that our community demands in law enforcement," said Mayor Mike Mansdoerfer.
"Although the recession forced a scaling back of the size of our police department, we have been working diligently to grow back the department in a way that is fiscally responsible. We are pleased that we have been able to add officers while reducing taxes for the second straight year. Our plan continues to come to fruition as we add officers while reducing taxes now for the second year in a row. It is a pleasure to add Officers like Erik Jarvis to the force when you know how hard we worked to bring fiscal order back to the budget," said Committeeman Jim Conway.
Class 1 officers in the State of New Jersey are part time officers who have obtained Special Law Enforcement Officer Certifications. They are authorized to perform routine traffic details, spectator control and similar duties. Officers have the power to issue summonses for disorderly persons and petty disorderly persons offenses, violations of municipal ordinances and violations of Title 39 (traffic) offenses.
"With the swearing in of Officer Jarvis, the Township Committee is one step closer to meeting its goal of 22 officers. We look forward to completing this objective by hiring one more full time officer in 2018," said Mansdoerfer.
"Last year we were able to fund returning an officer into the school system, which we identified as an imperative need. With the series of tragic events we have witnessed around the country lately, I am proud that Lumberton was ahead of the curve in recognizing student safety as a top priority. Now to have Erik Jarvis serving on our force, we have taken yet another giant leap forward. It's another great day for Lumberton," said Deputy Mayor Kristin Januseski.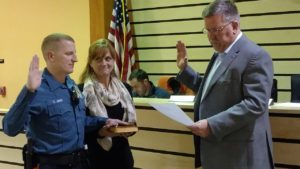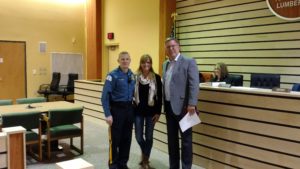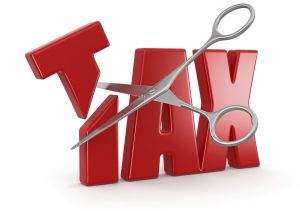 April 2, 2018 – Lumberton Township – The Lumberton Township Committee adopted its 2018 budget on Tuesday evening which lowered the local purpose tax for the second year in a row. The local purpose tax is lowered from .411 to .406 per $100 of assessed value which represents an approximate savings of $16.00 for the average home assessed at $299,734.00.
"We are thrilled to be able to support and adopt a sound fiscal budget which lowers taxes," said Mayor Mike Mansdoerfer. "This year was a culmination of more hard work and penny pinching, evaluating every dollar spent to make sure that we are good stewards of our residents' taxes. We know how hard our residents work to earn their income and want to ensure that we are as equally protective when their tax dollars are allocated to services," he continued.
The 2018 budget allocates $8,750,904 in spending. This is actually $1,644,931 less than the Township spent in 2008 and continues a decade long trend of stable or declining spending.
The Township's budget funds all critical tasks of the local government. "We developed a plan to address our community needs including building the new Emergency Services Building without increasing our debt service obligations. Most importantly, we allocated funds in the budget to bring a school resource officer back into the schools," said Deputy Mayor Kristin Januseski.
The Township's bond rating is AA Stable, confirming the bond market recognizes the Township's sound fiscal planning.
"Our budget also uses grants and outside funding sources to help continue to make improvements to our infrastructure," said Committeeman Jim Conway who is charged with overseeing many of the town's road and improvement projects. "This year we will again pave and repair more roadways and improve our parks and recreation system," he concluded.
For a copy of the Township's budgets, audits and annual financial statements, contact the Municipal Clerk or go online to www.lumbertontwp.com
Click link below to view documents: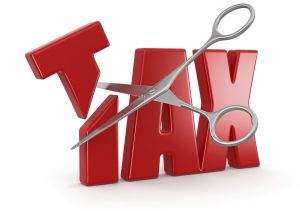 February 27, 2018 – Lumberton Township – Tuesday evening, the Lumberton Township Committee introduced its 2018 Municipal Budget, which lowers the Local Tax Levy by 1.7% or roughly 1/2 penny for every $100 of assessed value. This represents a local tax rate decrease from last year's 0.411 to this year's 0.406 or more simply a roughly $16 savings to the average assessed home of $299,734.00. The amount to be raised in taxes through this budget equates to an overall reduction of $95,997.44, taking the total tax levy from $5,690,279.02 in 2017 to $5,594,281.58 for 2018. In all, the entire budget appropriations for the 2018 Budget is $8,750,904, which is $37,032 less than the $8,787,936 appropriated in the last year's 2017 Adopted Budget.
"We are extremely proud to introduce this year's budget, which reduces the burden on our local taxpayers again for a second year in a row while maintaining all of our core Township Services, including staffing our Police Department at its increased level of 21 Sworn Officers," stated Mayor Mike Mansdoerfer. "I would like to congratulate the Township Committee, all of our Municipal Staff, especially our Township Administrator Brandon Umba, who have worked tirelessly to implement this tax cutting municipal budget", added Mayor Mansdoerfer.
"Since the national economic downturn, our Township has made strides to stabilize our Municipal Budget to ensure minimal impact on our residents, while maintaining all core municipal services at levels expected by our taxpayers," stated Mayor Mansdoerfer, liaison to the Township's Finance Department. "In that time the Township has been able to consistently decrease our total annual budget to the tune of $1,644,931 during the last 10 years (2008 Budget = $10,395,835 and the 2018 Budget = $8,750,904) and this year's budget culminates all of our past efforts by providing local tax relief to our residents for the second year in a row," explained Mayor Mansdoerfer.
"When I joined the Township Committee last year, my goal first and foremost was to provide tax relief to our residents and even though we as Township Committee Members do not control the School or County budgets, we do our very best to ensure that our local tax rate provides relief to our taxpayers," added Deputy Mayor Kristin Januseski, who also is a liaison to the Township's Finance Department. "Additionally, even while providing a tax decrease for a second year in a row, our Administration through its fiscal practices increased our Township's surplus to $2,920,454. 27," stated Deputy Mayor Januseski. "Having the fiscal minds like Mayor Mansdoerfer and Administrator Umba leading our finance team is such a hidden asset for our residents and taxpayers. They drill down on every penny and have developed sound financial planning for Lumberton for years to come," she concluded.
In addition to introducing the Township's 2018 Municipal Budget at the February 27, 2018 meeting, the Township Committee also adopted a capital ordinance to authorize $400,000 toward an addition to the new Emergency Services Building. This addition is needed due to the very recent increase in volunteer members to the Township's Emergency Squad and Fire Department. Since the Township has been able to build up its net surplus to close to $3 million, the Township Committee made the decision to add this addition now in order to meet the needs of our volunteer first responders without burdening any of our Township's taxpayers.
"The fact that we have been able to provide our residents with a tax cut for a second year in a row, while funding construction of a new Public Safety Building and provide for a much needed addition to this new building due to the significant increase in our volunteer first responders, is a true testament to hard work of our Township Committee and staff," explained Committeeman Jim Conway. "Through our efforts a number of commercial and residential projects within the Township are in the mix and it is because of our fiscal responsibility as a governing body that these developers find Lumberton Township attractive," added Committeeman Conway. "As we continue to build on our successes, I know that Lumberton's future is a bright one, because our local leaders are setting a blue print for a community that is affordable, and a great place to live, work and raise a family," concluded Committeeman Conway.
Lumberton Township has set its Budget Adoption hearing for 7:30pm on Tuesday evening March 27, 2018 at the Lumberton Municipal Building, 35 Municipal Drive, Lumberton, NJ 08048. Residents are encouraged to attend.
Click below to view documents: