CVS EXECUTIVES & THE LUMBERTON TOWNSHIP COMMITTEE BREAKS GROUND ON THE NEW CVS RETAIL STORE LOCATED ON ROUTE 38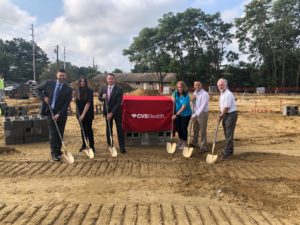 Photo credit from left to right: Jason Hughes, CVS District Leader, Committeewoman Kendra Hatfield, Mayor Sean Earlen, Deputy Mayor Kristin Januseski, Committeeman Jim Dwyer and Al Stein, CVS Real Estate Developer from Feinberg & McBurney.
Press Release – August 16, 2019,
Lumberton, NJ – Yesterday Lumberton Township Committee Members and CVS Executives broke ground on the new CVS Pharmacy retail store to be located on the corner of Route 38 and Main Street (County Route 691). This project has been in development since January of 2017, when the Township Committee moved to condemn the property for redevelopment purposes. The Township ultimately did not have to go through with the condemnation proceedings because they were able to work with CVS Executives and the prior owners of the property to overcome the various obstacles presented which has allowed this project to became a reality.
"We are pleased to have been able to work with CVS to bring this exceptional ratable to Lumberton. It will provide a significant benefit to our residents and serve as an anchor to the continued revitalization of the Route 38 corridor," said Mayor Sean Earlen.
"Lumberton offers CVS a great opportunity to expand our market. The Township's stable tax rate and commitment to its commercial partners guided CVS in its desire to come to seek this location for its next store," explained Al Stein, Real Estate Developer with Feinberg & McBurney of Cherry Hill, New Jersey.
"We appreciate that the Township Committee was able to help bring the former landowner and our client together and work through the developmental hurdles that can be present in abandoned properties such as this one," Stein continued.
This corner lot at the intersection of Route 38 and Main Street, County Route 691 has sat vacant since 2009 following a fire at the former gas station located on the property. The project also includes the adjacent property which formally contained a restaurant. CVS purchased the restaurant property on November 30, 2017 and went under contract with the former Exxon property at that same time until it was formally purchased on January 9, 2019. Before closing on the former gas station property, CVS received its approvals from the Lumberton Township Land Development Board (LDB) to construct its store at the May 16, 2018 LDB meeting. Under the Land Development Board approval, CVS is permitted to construct a 9,656 square foot building, with intended operational hours of 9am to 10pm, Monday through Saturday and 9am to 9pm on Sundays.
Deputy Mayor Kristin Januseski stated, "CVS's decision to locate its next store in Lumberton will transform this intersection and remove the blight that was left by the vacated gas station. We look forward to this store's opening which is expected to be in early December of this year and is expected to employ more than 20 full and part time employees."